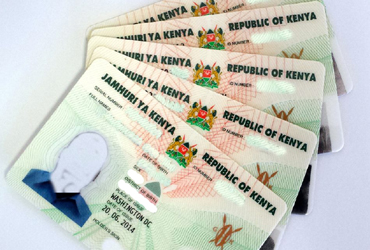 As a precautionary measure to address the spread of the Coronavirus (COVID-19) Pandemic, all external Consular services by the Embassy of The Republic of Kenya Washington D.C. have been postponed 
The Embassy of the Republic of Kenya in Washington D.C. will carry out a Kenya National Identity Card registration exercise in Wichita, Kansas from Saturday March 21st, 2020 – Sunday March 22nd, 2020.
Requirements needed to qualify for a Kenyan ID as well as a list of documents you need to bring please visit: http://www.kenyaembassydc.org/id
We'll also accept complete applications for:
Dual citizenship declaration or regaining http://www.kenyaembassydc.org/dualcitizenship 
Birth Certificate for Kenyan children born abroad http://kenyaembassydc.org/Birth_abroad
Venue:
Breakthrough Community Church
1700 South Oliver St.
Wichita, Kansas 67218
Time : Saturday – 8:00 am to 8:00 pm Sunday – 8:00 am to 5:00 pm
Please note : e-Passport equipment are not portable. We are not accepting any e-Passport application in Wichita. All e-Passport applicants must complete their applications on ecitizen.go.ke and then physically come to Washington D.C. for biometrics.